Medical Debt
Unexpected injuries and illnesses can wreak havoc on a person's financial stability. Medical bills and other out-of-pocket expenses can add up considerably over time. In addition, health insurance companies may not offer adequate coverage.
Californians who are facing substantial medical debt have options. A Los Angeles and Pasadena medical debt and bankruptcy lawyer can offer strategies for debt relief.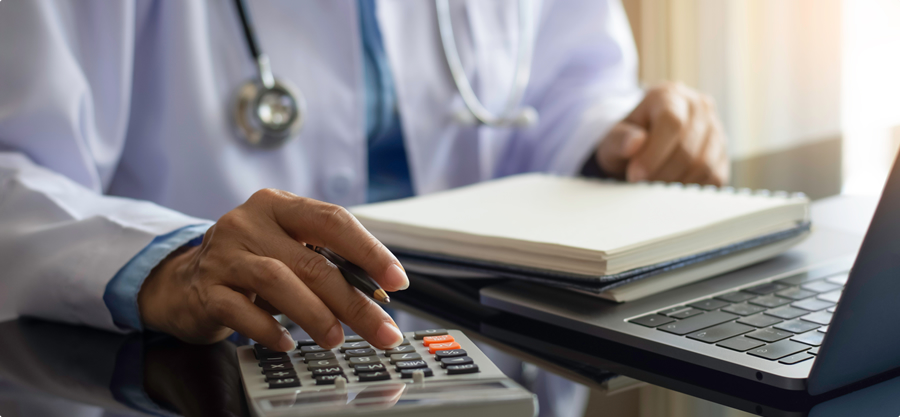 What Makes up Medical Debt in California?
Pasadena medical debt consists of any money owed to hospitals, physicians, and other medical providers. The money owed is referred to as unsecured debt, meaning that it is not backed by collateral like a house or a car.
According to recent studies:
5% of bankruptcies cite medical debt as the primary reason
78% of those who cited medical debt had health insurance
There is a myth that medical bills only lead to financial hardship for the uninsured. The study shows that the overwhelming majority of medical bankruptcies had some kind of health care insurance.
Will Health Insurance Cover My Medical Expenses?
While health insurance is designed to protect individuals from extreme medical debt, many hurt individuals are inadequately covered.
Insurance companies offer few affordable plans, most of which have high deductibles and co-pays. According to data collected from the Affordable Care Act marketplace plans:
The average annual deductible for a single individual is more than $4,000
For a family, the average deductible nears $8,500 for the year
When people are seriously ill or injured, these health care plans result in frequent out-of-pocket expenses that can build up over time to considerable amounts.
When workers unexpectantly lose their place of employment, they lose their health benefits. Former employees are either forced to buy a high-priced COBRA plan or settle for being uninsured.
Studies reveal that the vast majority of insured adults still owe staggering medical bills. An investigative report from the Kaiser Family Foundation saw:
Nearly 41% of Americans have medical debt over $500 with coverage from insurance companies
12% of those insured owe $10,000 or more
However, the above numbers may not reflect the true amount of medical debt. Many people put a significant portion of their medical bills on credit cards. Building credit card debt leads to high-interest rates and monthly payments.
Many people are finding that affordable health insurance offers little in the way of protection. Without adequate health care coverage, Americans are struggling.
How Can Medical Debt Affect My Financial Well-Being?
Medical debt can create long-lasting financial hardship. Individuals and families often suffer damage to their credit scores, resulting in the inability to obtain certain types of employment, finance a home, and acquire credit cards.
Medical Debt Causes Lasting Financial Hardship
A study recently revealed traumatic injuries lead to enormous out-of-pocket medical debt. Significant injuries are the leading cause of medical financial hardship:
1 in 8 households will experience financial hardship when a family member must be hospitalized
Prescription drug costs make up the bulk of the financial burden
The study defines excessive financial burden as 20% of a household's annual income. If a family's medical bills add up to 40% of their combined annual income, they are considered catastrophic medical expenses. Catastrophic medical expenses will typically lead to significant financial hardship for more than five years.
What Happens if I Cannot Pay My Medical Bills?
If a person cannot pay their medical bills, the consequences can be severe. Unpaid medical bills can be sent to collections. The damage to a person's credit report can take years to rebuild.
A medical facility may even choose to sue for the outstanding medical debt. A California court can grant various orders to obtain unpaid medical bills.
Late Fees and Interest
Doctors and other medical providers will immediately start to add late fees and interest charges to an individual's balance if they fail to pay their medical bills. On a $15,000 hospital bill, a modest 8% interest rate can add $100 to a medical bill each month and $1,200 by the end of the year.
Wage Garnishment
A wage garnishment allows a medical facility to collect outstanding debts by having a portion of a person's earnings withheld. Under California law, the debt collector must obtain a court order, and no more than 25% of a person's wages can be withheld for outstanding medical bills.
Lien
A creditor may seek to put a lien on a debtor's property through the court. A property lien would entitle a creditor to a portion of the proceeds if the home should sell.
A lien is a legal method of creating collateral for unsecured debt like medical bills. Liens can create a barrier for homeowners to sell certain properties, as prospective buyers tend to avoid homes when someone else has a claim.
In addition, having a lien on a home can make it difficult for homeowners to refinance their property. In some cases, liens can lead to foreclosure to force the repayment of debt.
Levies
In some cases, when a creditor sues for unpaid debts, they may ask the judge to impose a levy on the debtor's assets. A bank levy is the most serious action a judge can grant for a creditor.
A levy will:
Freeze all financial accounts
Take existing money from accounts to cover debt
Take any future money placed into the accounts
Levies are removed once the debts are satisfied. However, a levy can dramatically escalate the situation for families already struggling financially.
How Can a Pasadena Bankruptcy Lawyer Help?
A Pasadena bankruptcy lawyer can offer a few options for debt relief. In some cases, an attorney can negotiate down substantial medical bills with the creditor.
Another option is to negotiate a medical debt repayment plan. The installment agreement will divide payments into reasonable monthly payments. A repayment plan can work well if the debtor has the means to keep up with the payments.
However, if an individual falls behind on the payments, all the adverse effects they sought to avoid may potentially restart.
For instance, the process could begin again if a payment plan was implemented to avoid a levy or lien. This time, fewer options may be available to avoid the levy or lien.
Depending on the circumstances, filing for a type of bankruptcy may be the best solution for substantial medical debt. A bankruptcy lawyer can either wipe out the debt owed or take more aggressive measures to restructure medical debt.
Should I File Bankruptcy for Medical Debt?
The bankruptcy code allows people to reorganize their debts to make them more manageable or discharge them. There are two types of bankruptcy frequently used for outstanding medical debt.
Chapter 13 Bankruptcy
Filing Chapter 13 Bankruptcy in California is a popular choice for individuals and families who wish to keep most of their possessions. Chapter 13 will reorganize a person's debt into manageable payments. Creditors are satisfied that the money owed will be repaid, halting all aggressive collection techniques.
In most cases, a Chapter 13 bankruptcy will create an installment agreement that lasts 3 to 5 years. Some of the advantages of filing for Chapter 13 include the following:
Debtors are allowed to keep their possessions in lieu of liquidation
Individuals can stop any foreclosure proceedings
All secured and unsecured debts, minus a mortgage, can be restructured over the agreed-upon time period
Protection for liable third parties or co-signers
A Chapter 13 bankruptcy will consolidate all debts, providing an individual one payment to make a month. For those who struggle to make multiple monthly payments to various creditors, Chapter 13 can act like a debt consolidation loan.
Chapter 7 Bankruptcy
Depending on the number of medical bills and any other outstanding debts owed, filing for Chapter 7 bankruptcy may be the better option.
Chapter 7 offers a debtor a fresh start. This type of bankruptcy liquidates all assets, using the funds to repay as many debts as possible. Once completed, a judge will evaluate the case and discharge any other outstanding debts.
What Are the Common Causes of Medical Debt?
Excessive medical debt can happen for a multitude of injuries and illnesses, including:
Medical malpractice
Brain injuries
Car accidents
Occupational exposure
Large commercial truck auto accidents
The above is not a comprehensive list of illnesses and personal injury cases. Medical debt can be incurred for a variety of reasons.
Can I Recover Funds Through a Personal Injury Claim?
When people suffer injuries due to the negligent actions of others, they may be able to recover monetary compensation. Compensatory damages can be used to pay down medical bills.
What Are Personal Injury Claims?
A personal injury claim is a civil lawsuit against a party whose negligence led to physical or emotional losses. The injured party can recover damages for their medical expenses and other unforeseen out-of-pocket costs.
For example, a family member can file a wrongful death lawsuit on behalf of a deceased loved one for burial costs and any unpaid medical bills.
Why a Personal Injury Settlement May Not Cover All Your Medical Expenses
Personal injury claims are typically filed with the at-fault party's insurance company. Unfortunately, insurance companies have policy limits and may not cover all of the out-of-pocket costs and medical expenses.
If the defendant in a personal injury case is underinsured and lacks enough assets to pay a verdict, an injury victim will be left with substantial medical debt on top of other bills.
Call a Pasadena Medical Debt Bankruptcy Attorney Today
A Pasadena medical debt bankruptcy attorney can strategize various means of resolving unpaid medical debt. Our client testimonials, law firm reviews, and history of success have strengthened our reputation in Southern California.
At Korompis Law, we are proud to offer individual attention and close, personal service. When you need legal advice from a trusted attorney-client relationship, call our offices today at (626) 938-9200 for a free consultation.
We happily serve the areas of Glendale, Houston, Los Angeles, and Burbank, California.