Foreclosures
California foreclosures have steadily increased over the years. Our state has always ranked high in the country for the number of foreclosures. California is one of the most populous states in America and was a central hub during the mortgage boom.
After the unprecedented COVID pandemic and the current economic climate, many families are suffering. Our California law firm has helped numerous individuals and families escape crippling debt.
Our foreclosure attorneys can evaluate a homeowner's unique circumstances and work on a financial strategy that best suits their needs. We have years of experience assisting in various mortgage default options.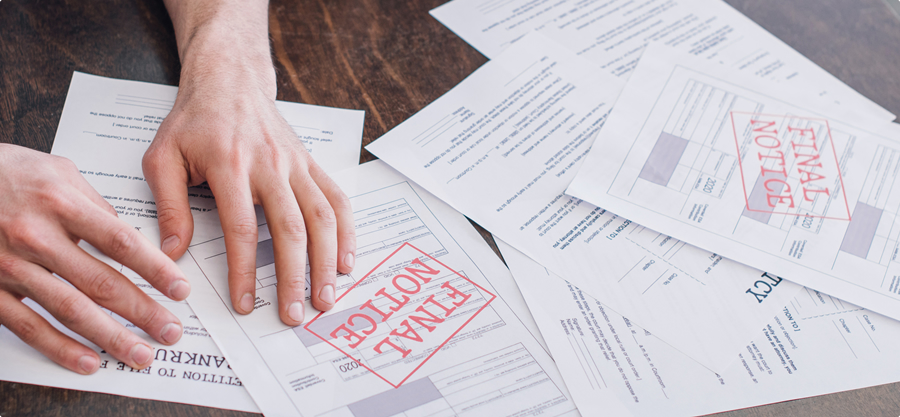 What is a Foreclosure?
A house is the single most expensive purchase in an individual's life. For the most part, people do not buy their home upfront. Instead, they finance their home through a bank or mortgage company.
The bank or mortgage company is considered a lender, while the person borrowing is regarded as a debtor. If a debtor fails to make consistent payments on their mortgage, the lender can force the sale of the house to recover the loan amount.
This forced sale is called foreclosure, and it is on the rise in California.
What Does a Foreclosure Look Like in Riverside?
Facing foreclosure is an overwhelming process full of various legal issues. CA foreclosures have jumped considerably in the last year, according to a new report:
California is 2nd in the nation for the number of homes currently in foreclosure
Foreclosures have risen by 116%
In the Los Angeles and Orange County areas, 1.9% of mortgages are in trouble
Inland Empire has reported that 2.6% of homeowners in danger of default
San Diego is showing nearly 1.6% of troubled mortgages
When a homeowner has missed several mortgage payments, they may be in danger or in the process of foreclosure. It is important to know that a foreclosure defense team can provide debt relief options and other legal services.
What Legal Services Can Our Foreclosure Defense Team Offer?
Falling behind on mortgage payments is deeply stressful, especially in the current economic climate. On the heels of a global pandemic, disruptions in the supply chain have led to historical inflation. Now that many of the debt relief programs surrounding the COVID pandemic have ended, homeowners are forced into a difficult position.
The impact a foreclosure will have on a homeowner's credit score, report, and overall financial well-being is substantial. There are various alternatives to foreclosure. Finding the right legal advice will go a long way to choosing the best option for a homeowner's particular set of circumstances.
Loan Modifications to Reduce Mortgage Payments
Another option for troubled homeowners is a loan modification that will reduce mortgage payments considerably.
A foreclosure attorney can help renegotiate mortgage payments with the lender. This usually means extending the life of the loan to reduce the monthly payments. In other cases, negotiating the interest rate down can help make mortgage payments more manageable.
Loan modifications are a permanent solution and one of the most common alternatives to CA foreclosures.
Short Sale in Real Estate Law
If an adjustment to the mortgage will not be enough, a short sale may be the best option.
A short sale in real estate law involves the lender and debtor, i.e., homeowners, agreeing to sell the property for less than the loan amount. The lender will agree not to pursue the difference between the sale and loan amount.
A short sale will benefit the homeowners by:
Avoiding the foreclosure process
Avoiding any judgments after the sale of the home for debts outstanding
Lessens the impact on your credit significantly
A caveat to the short sale option is the difficulty homeowners face negotiating with the mortgage company and finding a buyer at the agreed-upon price.
Chapter 13 Bankruptcy
To file bankruptcy is a drastic step. However, it can be necessary depending on a homeowner's circumstances.
Chapter 13 bankruptcy is often referred to as a wage earner's plan. Homeowners can create a repayment plan to pay all lenders over a period of time. Usually, homeowners have 3 to 5 years to repay their debts.
The greatest benefit to filing Chapter 13 bankruptcy is the ability for homeowners to keep their property.
Chapter 7 Bankruptcy
Chapter 7 bankruptcy is another form of debt relief for homeowners. Chapter 7 is the form of bankruptcy most people are familiar with as it clears away a person's debt through liquidation and sets them up with a fresh start.
When a homeowner files for Chapter 7 bankruptcy, it stops creditors from garnishing their wages, repossessing property, eviction, and home foreclosure.
A trustee is appointed who will evaluate the liquidation of assets. It generally takes 4 to 6 months to sell the property and repay creditors with the proceeds. The court will discharge any outstanding debts that are left.
What is the COVID Mortgage Debt Relief Program?
The California Mortgage Relief program is designed to give homeowners debt relief. It works similarly to the Federal COVID relief dollars renters used to pay their landlords.
Under the new homeowner debt relief program, debtors may receive up to $80,000 to cover their mortgage, property taxes, and insurance. Californians earning low-to-moderate income and who have been impacted by COVID may meet the requirements.
Homeowners may qualify if they meet the following criteria:
The home is a single-family house, condo, or non-mobile manufactured dwelling
It is the homeowner's primary address and a single piece of real estate
The homeowners experienced financial hardship related to the COVID pandemic
The homeowners' earnings are less than the average income for your area
The first mortgage was a conforming loan
In addition, the homeowners must meet one of the following statements:
A significant portion of the household income is derived from government assistance (e.g., welfare, food stamps)
The mortgage and household costs exceed more than 40% of the total household income
The mortgage company or lender has denied alternative methods to foreclosure
If a homeowner is currently behind on their mortgage payments, they should contact the state office and inquire about their eligibility.
Under Real Estate Law, Can Probate Stop Foreclosures in Riverside?
Probate cannot stop a foreclosure on a home. Probate is the process of disbursing a deceased person's property in accordance with California law.
If an estate is in probate and the home or real estate goes into foreclosure, the probate court must respect the rights of the mortgage company or lender.
In other cases, a property may not go into foreclosure until after the estate has gone into probate. In this scenario, the executor of the estate may default on the loan for several reasons:
If the house is worth less than the mortgage
If the executor is unaware of the property or mortgage default
If the estate does not have the means to pay the lender
Estate planning can help individuals and families avoid probate. However, estate planning cannot stop a foreclosure.
How Does a Foreclosure Affect Your Credit?
Foreclosures have a tremendous impact on a homeowner's credit. For example, many creditors will deny all applicants with a foreclosure on their report. Other creditors may disregard a foreclosure if it has been several years.
A foreclosure can make it nearly impossible to:
Obtain credit cards
Buy another property
Rent a home
Find employment in certain industries
A foreclosure cannot be removed from a credit report before it is time. After seven years, it should fall off a credit report on its own. However, if the foreclosure remains on the report, it is best to file a credit report dispute.
How Does Foreclosure Work in Business Law?
Riverside foreclosures affect business property as much as personal property. When a business falls behind on its mortgage, the lender may begin the foreclosure process. The foreclosure process for commercial property works much in the same way as personal property.
Depending on the type of business, the owner's credit may be affected personally.
Why Choose Korompis Law?
When homeowners are facing foreclosure, they need a law firm with the skills, resources, and knowledge to protect their financial well-being. Every homeowner's situation is unique. What works for one family may not work for another.
At Korompis Law, our foreclosure and bankruptcy attorneys can help:
Eliminate credit card debt
Eliminate medical bills
Eliminate personal loans
Stop a personal injury lawsuit
Stop the garnishment of your wages
Stop the foreclosure of your home
We understand the stress and devastation involved with potentially losing a home. Thankfully, there are several alternatives to foreclosure available.
Contact Our Riverside Foreclosure Attorneys for a Free Consultation
Our Riverside foreclosure lawyers can help families in trouble with their mortgages. Whether a homeowner is just a little behind on their mortgage payments or has received notice that the bank intends to foreclose, they have options.
Contact the law offices of Korompis Law at (626) 938-9200 to schedule a free consultation. Call our lawyers serving Riverside County, Inland Empire, Corona, Orange County, San Bernardino County, San Diego, or other areas in Southern California.