Credit Card Debt
Credit card debt has been the subject of numerous consumer protection laws and reforms for more than a decade. Between predatory lending practices and exorbitant fees, many Americans have found themselves in deep financial trouble.
A Riverside credit card debt attorney can offer various solutions to excessive and debilitating debt. Our debt relief law firm has years of experience helping those overwhelmed by credit card debt by providing tailor-made strategic solutions.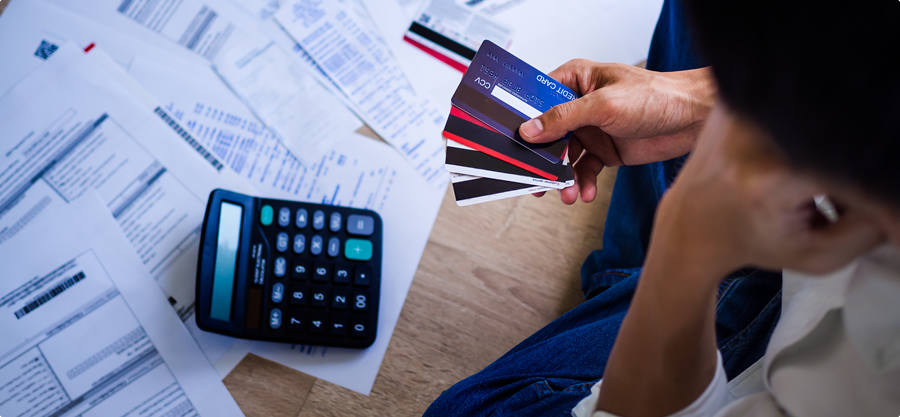 Is Credit Card Debt a Common Problem in California?
Credit card debt has reached record numbers in the last few years. According to the latest data from the Federal Reserve Bank of New York:
Credit card debt for Americans totals more than $930 billion
Delinquency rates for credit cards have increased from .16% to 5.32% in one quarter
Adults aged 18 to 29 have delinquency rates 76% higher than the total average credit card delinquency rate
The delinquency rate for young adults is 9.36%
Incurring a substantial amount of credit card debt does not mean the cards were abused or the cardholder lived an extravagant and wasteful lifestyle. The truth is that there are many reasons debtors get into credit card trouble.
Why Do So Many People End Up in Credit Card Debt Problems?
Building up credit card debt is much easier than people realize. Even when credit cards are used responsibly, high-interest rates and other policies can foster massive card balances. The following are the most common reasons why people incur large amounts of credit card debt and find themselves in delinquency.
Putting Other Debts on Promotional Low-Interest Rate Cards
Finding a card with a low-interest rate or 0% interest for a promotional time can be a great way to consolidate some debt. Credit card balance transfers are encouraged on most blogs and articles associated with debt relief.
Many people decide to put other expenses and debts on a low-interest credit card. The hope is to pay the balance off before the promotional low or zero interest ends. Medical bills, student loans, and car repairs can use up the entire line of credit.
Once the promotional time has ended, usually 12 months, the interest rate can jump dramatically. Currently, the average interest rate on credit cards is 21.40%. Unless cardholders continually transfer their debts to other low-interest rate card promotions, they can end up paying hundreds in fees.
Using a Credit Card Like an Emergency Fund
Unexpected accidents and emergencies happen. Unfortunately, many Americans do not have an adequate emergency fund in place, if anything at all.
According to a study that analyzed data from 2009 to 2018:
1 in 4 households has no emergency fund
6 in 10 families cannot cover a $500 emergency
Credit cards are an easy source to use when funds are not available. Many Americans even have an "emergency only" credit card rather than a separate savings account at a bank.
The most common emergencies people place on credit cards include:
Automobile repairs: Tires and engine trouble can cost hundreds of dollars to repair. If the damage is due to a minor car accident, some people choose to put the repairs on a credit card rather than file an insurance claim and risk increasing their premiums.
Home repairs: Owning a home can be extremely costly. When an air conditioner breaks or a pipe bursts, replacements and repairs can cost thousands. Without an adequate emergency fund, those costs will usually go on one or multiple credit cards.
Medical bills: A trip to the emergency room can cost over a thousand dollars for a minor injury and tens of thousands for any moderate to critical injury. If the bill is small enough, many people simply put it on their credit card to pay it off later rather than work out a payment plan with the hospital.
Job loss: Several articles have been published announcing Americans should have funds for at least 3 months' worth of bills set aside. Unexpectant job loss without an emergency fund means every bill, groceries, and other household expenses are going on the family credit card.
While it is good to have a credit card to help, they are not meant to be used as the household emergency fund.
Credit Card Companies Encourage Spending by Raising Limits
Credit card companies are known for some unsavory practices. One of the most common practices is raising the spending restrictions just as a cardholder nears their limit. With a higher credit limit, many cardholders can get into trouble by overspending.
Tricky Marketing Techniques from Card Companies
Credit cards also offer a great deal in the way of tricky promotional rates and other marketing techniques. In some cases, the policies can be considered predatory.
Credit card companies make huge profits from fees and other penalties. Credit cards are known for having:
Cash advance fees
Annual fees
Over-the-limit fees
Insurance products
After a time, fees and penalties can add hundreds or thousands to a cardholder's balance. In addition, credit card companies can choose to raise interest rates, adding even more to the end-of-year balance.
Once a credit card account is delinquent, creditor harassment usually begins. Credit card debt is unsecured debt, meaning that there is no collateral attached in case of default. A credit card company may send a delinquent account to collections or sue the cardholder for outstanding debts.
How Can Substantial Credit Card Debt Effect My Life in Southern California?
Whether or not a person has become delinquent on their credit card account, having substantial credit card debt can be detrimental.
Credit Card Debt Hurts Credit Scores and Credit Reports
Carrying high balances can hurt credit scores. Many different elements make up a credit score. One of the most important factors is the debt-to-credit ratio. Using most or all of the credit limit on a card will typically cause a credit score to drop considerably.
Excessive Credit Card Debt Often Leads to Higher Interest Rates
Credit card companies may up the interest rates when cardholders carry excessive credit card debt over several months. Many consumers miss that their rates have increased and incur hundreds of dollars in extra fees by the end of the year.
It can take years to pay off substantial credit card debt. In that time, emergencies and other life changes can cause an account holder to become delinquent. If a credit card company chooses to sue for unpaid credit card debt, it can seem impossible to overcome.
What is a Los Angeles Credit Card Debt Settlement Attorney?
Credit card companies have long been under the spotlight for predatory and unconscionable practices. A debt settlement attorney can provide various legal services for debt relief.
A credit card debt settlement lawyer can:
Advise a client of their rights under consumer protection laws
Negotiate with credit card companies
Offer credit counseling
Provide debt relief through various strategies
Knowing if a credit card debt settlement attorney is right for you begins with a free consultation.
What Options Can an Experienced Credit Card Bankruptcy Lawyer Provide?
A Riverside bankruptcy attorney can offer many solutions for debt relief.
Debt Consolidation
Debt consolidation can combine outstanding credit card balances to create one monthly payment. This method can help shield cardholders from high-interest rates and establish a more manageable repayment plan.
Chapter 13 Bankruptcy
There are a few different types of bankruptcy options available. Bankruptcy law allows debtors to consolidate or discharge their debts.
A Chapter 13 bankruptcy will act similarly to a debt consolidation plan but with added benefits. Co-signers and other liable third parties can be relieved of their obligation to the debt. In addition, filing can put a stop to creditor harassment and protect a cardholder's possessions.
Chapter 7 Bankruptcy
Under the bankruptcy code, a Chapter 7 can provide a debtor with a fresh start. Individuals who file a Chapter 7 will have the majority of their assets liquidated to pay off creditors. Then, any other debts left outstanding can be discharged by a judge.
When to File Bankruptcy
Many bankruptcy cases arise out of an extreme change in income. For example, many families found themselves unemployed or underemployed during the pandemic.
Losing a job, divorce, and having a baby are all life-changing events that can make paying back debts nearly impossible. Once a credit card account is delinquent or goes into debt collection, creditors can take many aggressive measures, including:
Court-ordered wage garnishment
Property repossession
Foreclosure
The bankruptcy process can seem daunting. However, depending on one's financial situation, the type of bankruptcy can provide individuals with a fresh start.
Call a Credit Card Debt Bankruptcy Attorney in Pasadena or Los Angeles
When credit card holders have debt problems, a bankruptcy attorney may offer the best solutions and legal advice. At Korompis Law, we are highly skilled negotiators with extensive experience dealing with credit card companies.
Contact our law firm today for a free consultation by calling (626) 938-9200. Our bankruptcy law firm serves Riverside County, Glendale, Los Angeles, Inland Empire, San Bernardino, San Diego, San Jose, and Orange County